Background of Ecosystem Building
Background of Impact Ecosystem Building
The Twin Cities region first participated in a social enterprise ecosystem research project in 2017, led by the Halcyon program in Washington D.C. In conjunction with the report's release in mid 2018, the Bush Foundation supported the Halcyon team to come to the Twin Cities to share the findings, and bring together social enterprise and traditional business leaders to engage in a conversation about the impact social enterprise is making in our region, and explore the possibilities of how the sector's impact could be further expanded and supported. 
At the close of that gathering, the Social Enterprise Alliance Twin Cities chapter (now Social Enterprise MSP) posed questions of the larger group about "what's next"? How can we leverage these findings ("hey, we're 8th out of 22 cities – what would it take to be #1?") to help us build the sector and drive greater social impact? There was a desire to activate a broader set of partners and mobilize a movement – building the #PurposeDrivenEconomy in our region.
For the 3rd year, the Halcyon Incubator published a Social Enterprise Ecosystem Report (SocEntCity.org), assessing the strength of regional ecosystems around the country, and come to the Twin Cities to report on the findings in the report.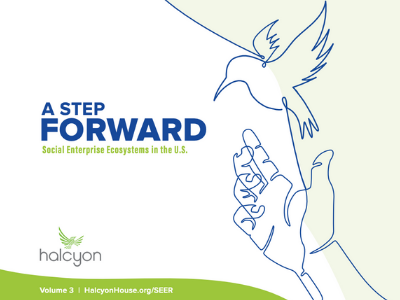 Event Partners & Collaborators
Community-Led Research Roundtables
SE-MSP, with the continued support of the Bush Foundation, has vigorously pursued building the #PurposeDrivenEconomy over the past year and is intent on expanding participation with a growing audience, grounded in inclusive economy principles, and measures to match (e.g. Rockefeller Inclusive Economies Indicators).

The 2019 Halcyon report release presented an opportunity to launch an expanded series that would build on the 2018 convenings that "planted seeds" for the idea of forming community-led "Leadership Circles" organized around strategic action that is complementary and aligned with other economic development initiatives in our region, as well as globally recognized frameworks (e.g. GreaterMSP, Center for Economic Inclusion, MN Partnership for Sustainable Development Goals, Impact Management Project).
Rockafeller Inclusive Economy Indicators
Greater MSP Regional Indicators
Center for Economic Inclusion Framework
Envision Together Report Out
Learning In Action