Join us for Social Impact Week MN 2022
December 5th – 10th, 2022
Social Enterprise MSP and Impact Hub MSP are collaborating again for another celebratory week of all things social impact.
Together we are honoring the stories of amazing companies and founders that are using business as a tool for social good. This holiday season we invite you to eat, drink and shop local and "social" and align your dollars with your values. 
Grab the free passport and join us in exploring all the ways to shop and support socially-conscious businesses during Social Impact Week happening December 5th – 10th.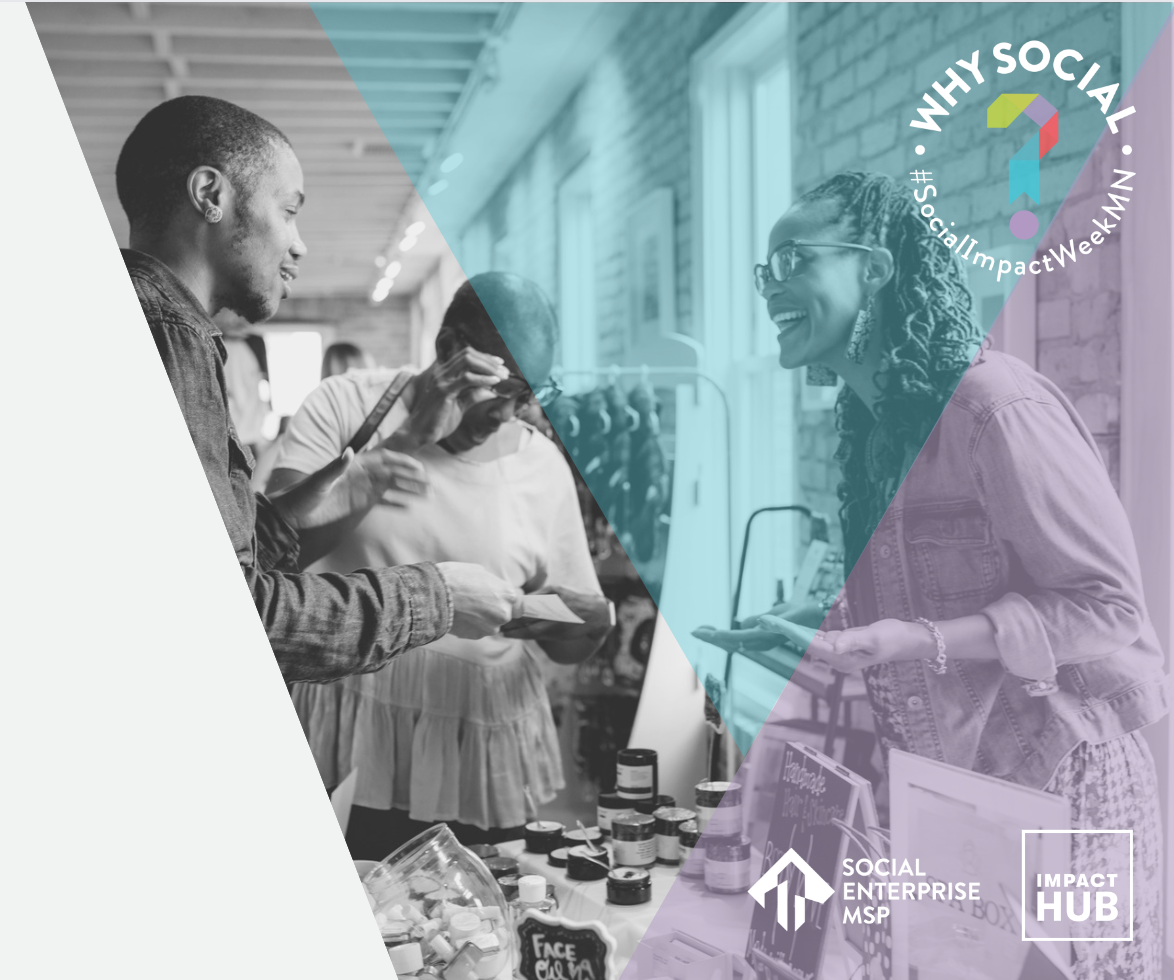 Discover a Founder Story
All week long we will be sharing founder stories of businesses making an impact in our communities. Follow along on social and share your favorite social businesses to patron and shop to encourage others to shop social! 

Download the Passport
Grab the passport below and to eat, drink, and shop your way through the holiday season. When you visit, tag participating businesses and #SocialImpactWeekMN to share! 

Shop Gifts for Good Market
Shop products that give back by joining the virtual holiday marketplace on December 9th. Join our local Impact Hub MSP and four other locations around the globe as they feature founders with amazing gifts to meet your values. 
Scroll down to join the marketplace!

Share Your Mission
All social businesses are encouraged to join and share their own story. Use this opportunity to share about your mission and "Why Social" is part of your ethos.
Let's flood the community with amazing social impact stories throughout the week. Tag @SocEntMSP and @ImpactHubMSP for resharing!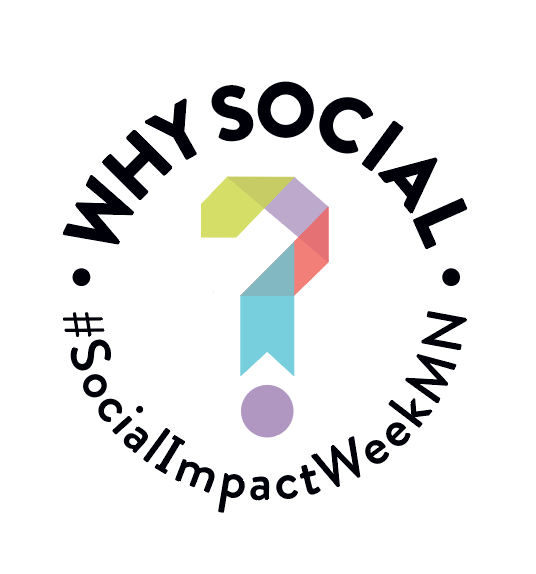 Featured Social Business Stories
Join us in celebrating the stories of these three social enterprises to be revealed through out the week. Du Nord Social Spirits, Isadore Nut Co. and Flava Cafe.

Download our Passport of Social Businesses
Explore a Live Map of Passport Features
Shop the Gifts for Good Marketplace
December 9th from 2 – 5 pm CT
For the first time ever, Impact Hubs across the US and Canada are coming together for a virtual Gifts for Good Market.
Building on success from past in-person and virtual markets across the Impact Hub network, we are excited to work together to help you shop sustainable and ethical products this holiday season. Meet a curated selection of inspiring makers and find products that will not only make perfect gifts, but also do good!
What to Expect:
Virtual marketplace via Hopin – Stop by anytime between 2-5pm CT to shop with purpose!
Learn more about these inspiring vendors via Hopin's virtual main stage. Vendor spotlight sessions will take place while the marketplace is open.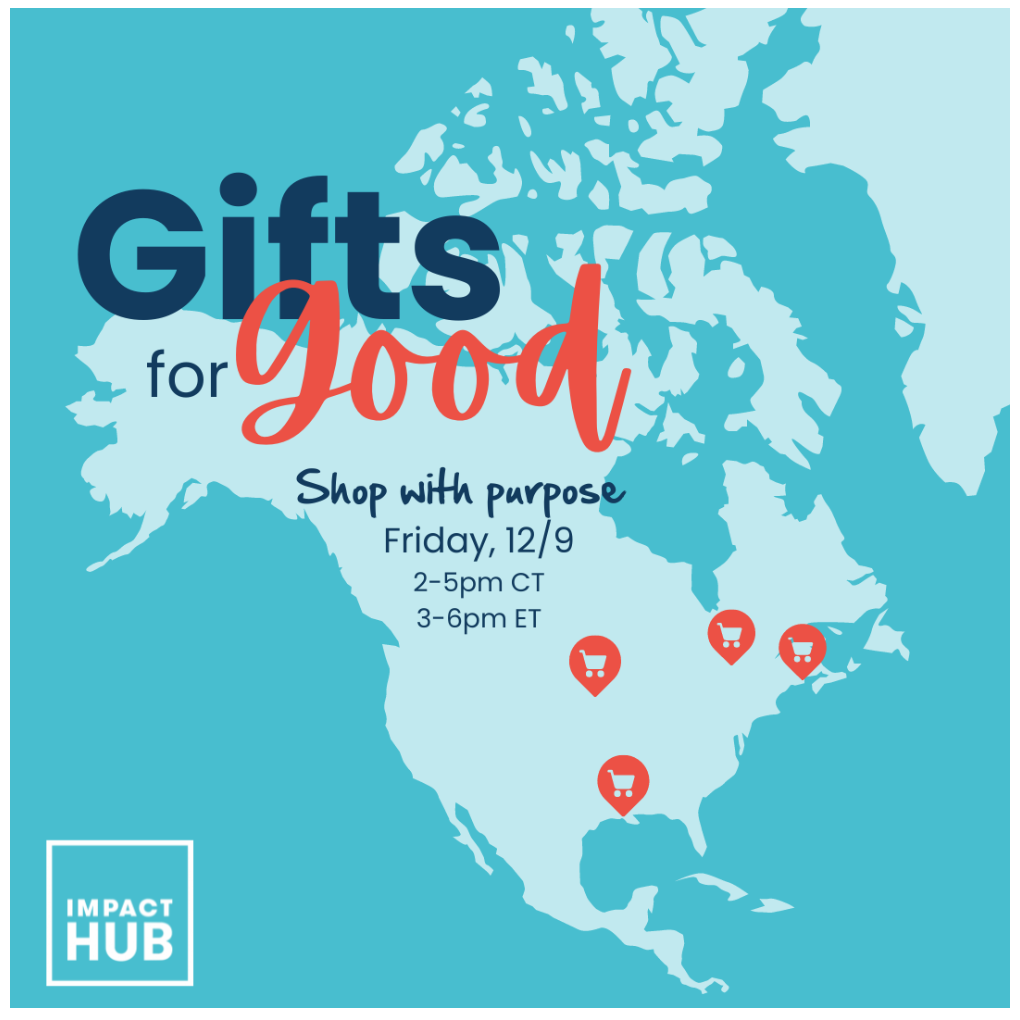 Social Enterprise MSP is a community platform that serves as a connection point to the Minneapolis St. Paul impact ecosystem. Offering support, guidance, and connection to the local social enterprise and entrepreneurship community to the resources, networks, and institutions they need to lead the purpose-driven economy.

Impact Hub MSP is a local co-working space and so much more. As part of the global Impact Hub network, they offer community-led workshops and other learning opportunities from peers who want to help you find solutions to social problems.